I love lists. I also realize that, when it comes to ranking films, lists can be somewhat silly. I mean, how can you rank a comedy as compared to a heavy drama? But hey, I can't help that my brain works this way. I actually keep a running list on my phone of my 100 favorite films, and the list is constantly changing. I decided that, rather than keep it to myself, I should share it with you. So, over the next few weeks, I'll be posting my 100 favorite films of all time. They'll come in increments of 25, with this post featuring numbers 50-26. Keep in mind a few things: 1) these are my personal favorites, so I'm not saying these are the 100 objectively best films ever made and 2) I am not giving a blanket recommendation for every film on this list. You should certainly keep in mind age and content maturity when viewing some of these films (for more info on that, check out this post). Also, this series will only focus on feature films, so you won't see any documentaries. Finally, for any films that I have previously reviewed, there will be a button below each title for you to click through to the original review. My plan is to post this series every year to see how my rankings have changed. But enough intro, let's get to the list! Here are numbers 50-26...
50. Remember the Titans - Boaz Yakin (2000) There was a time where I listed this as my favorite film. It is incredibly nostalgic for me. Growing up, there was no film that I had seen more than this one. In fact, this may still be the film I've seen the most times. It is incredibly rewatchable, and even though it is a Disney film and certainly appropriate for all ages, it deals with themes that are mature and thought-provoking. It uses music so well, from its soundtrack of 70s hits to its rousing score. And I'm not sure I've ever seen a bad Denzel Washington performance. He always delivers, and he certainly does so here as coach Herman Boone. As I've gotten older, my movie tastes have changed and my love for football has waned a bit, but this will always be a film that is near and dear to my heart.
49. Home Alone - Chris Columbus (1990) Talk about nostalgic! My brother and I watched the Home Alone films so much growing up. This is basically a kid's dream - to run the house on your own. I appreciate the perspective of the younger sibling, though my family was not nearly as large as Kevin McCallister's (Macaulay Culkin). Joe Pesci and Daniel Stern are hilarious as the classic crime duo - the Wet Bandits. This film is funny and charming at times, but it is at its best when it looks at themes of family and friendship through the eyes of its young lead. And hopefully this was a cautionary tale that kept parents from leaving their kids at home.
48. Se7en - David Fincher (1995) Few films choose a mood and stick to it as well as David Fincher's gritty 1995 crime drame Se7en. This film is dark, and it knows that. It pulls no punches and refuses to spare us from the gritty details our heroes encounter. There are elements of the buddy cop genre here, too, but Detective David Mills (Brad Pitt) and Detective Lt. William Somerset (Morgan Freeman) do not find themselves an obvious pairing. One is a young up-and-comer, the other a soon-to-be-retired veteran. They have vastly different ideas of how to approach this case, but each makes important contributions. This film is famous for its ending, which is certainly impressive. The film as a whole is an incredible achievement, and it is impossible to forget.
47. Red Beard - Akira Kurosawa (1965) I've already mentioned why Akira Kurosawa is considered a legend, and this is my personal favorite of his films. Given that it's a Kurosawa film, it goes without saying that Red Beard is visually interesting. There are many powerful shots, including the header image above from a scene with visuals that stuck in my head for days after watching the film. It is long, coming in at over three hours. But its profound storyline never lets it feel arduous. Here we watch as the young Dr. Noboru Yasumoto (Yuzo Kayama) comes to a local clinic to care for the sick there. As the film begins, he sees the patients as simply dirty and sickly. But as the film continues, he - along with we as the audience - begin to consider the humanity of everyone we see. I also reviewed this film for Filmotomy as part of their World Cinema Project.
46. The Departed - Martin Scorsese (2006) First off, I always read this film's title as "The De-PAH-ted". The Boston setting makes for many great accents from this incredible ensemble cast - particularly Boston natives Mark Wahlberg and Matt Damon. This cast really is fantastic from top to bottom. Jack Nicholson, Leonardo DiCaprio, Alec Baldwin, Vera Farmiga and Martin Sheen all give wonderful performances. But I can't help but focus on Scorsese's direction even with the enormous and star-studded cast. This was Scorsese's first film to garner him Best Picture and Best Director wins at the Academy Awards. While I don't find it to be quite as good as some other Scorsese classics, those awards were certainly well-deserved. This is a film that spins us ever deeper into its story before unravelling in compelling ways. And it is impossible to stop watching once you put it on.
45. Indiana Jones and the Last Crusade - Steven Spielberg (1989) For a long time, I've gone back and forth over which Indiana Jones film is my favorite. I remember watching the films with my family when I was a kid and being simply enthralled by the music, the story, and the character so wonderfully embodied by Harrison Ford. This is the film from the original trilogy that I have seen the most. It is so much fun, and I personally love the interplay between Ford and Sean Connery. I vividly remember watching the closing scenes as our hero takes the path of the "penitent man." And this film may contain the most classic closing shot of all-time. Too bad Indiana Jones didn't actually ride off into the sunset but made us sit through Kingdom of the Crystal Skull instead.
44. The King of Comedy - Martin Scorsese (1983) Marty is known for other films besides this one. While it certainly has a dedicated following, it doesn't seem to get the acclaim of some of his more famous films. However, I think it holds up quite well to any film the masterful director has ever made. Here, Scorsese and Robert De Niro are satrizing our culture's thirst for celebrity. Scorsese uses "dream" sequences to throw us off and make us question whether we're seeing the real story or not. No matter what you think of the film, one thing is clear when you watch it - Rupert Pupkin is one of the most memorable characters you will meet. I reviewed this film for Filmotomy's retrospective on the year of film in 1983.
43. Singin' in the Rain - Stanley Donen, Gene Kelly (1952) When you hear Gene Kelly start humming as he walks out into the rain in that iconic scene, you can't help but sing along. There's no other way to describe this movie except to say that it is absolutely magical. The musical numbers are some of the most classic that Hollywood has ever created, and the performances are endearing. It's also a fascinating look at a time of great change in Hollywood - the advent of "talkies" and the move away from silent pictures. The cinematography and the choreography work together so well and create a magical world that sucks us right in. There's a reason this film is so universally praised. "What a glorious feelin' I'm happy again."
42. Some Like it Hot - Billy Wilder (1959) Hilarous, absolutely hilarious. I've already discussed my love for Billy Wilder's writing and Jack Lemmon's acting, and the two combine perfectly once again in this film. Tony Curtis and Marilyn Monroe give fine performances as well, but it is Wilder's writing that takes center stage. Set aside for a second the closing line (which must obviously be one of the most famous ever written), the film as a whole is an incredibly-intricate farce. I mentioned earlier in my list how well the film Mrs. Doubtfire plays juxtaposition for laughs, but the trick was initiated here. In fact, I highly doubt that a film like Mrs. Doubtfire would have been made if not for this comedy classic. You can try to top it, but you probably won't succeed. But, hey, nobody's perfect.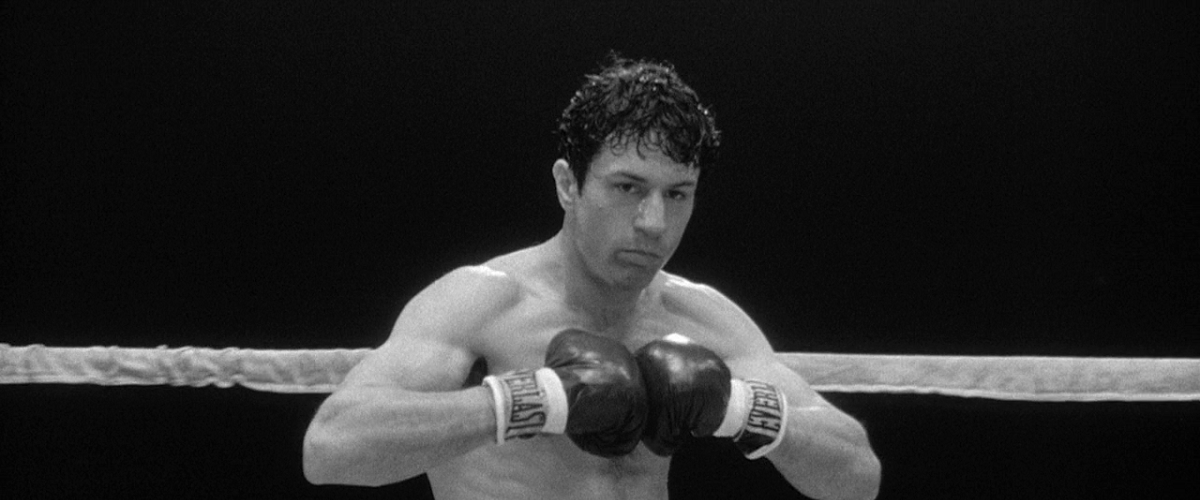 41. Raging Bull - Martin Scorsese (1980) Is there a better opening credits sequence? The music and the visuals here set up the storyline that will ensue. This is Marty's look at violence, and not just the kind that Jake La Motta (Robert De Niro) endures in the ring. That same violence carries over into Jake's personal life. I can think of few scenes that shook me as viscerally as the scene of Jake in his prison cell near the end of the film. Joe Pesci also gives a wonderful performance here, and we can quibble over whether it's his best performance in a Scorsese film (for my money, that distinction goes to a Pesci performance in a film that shows up a bit later on the list). From my very first time seeing this film, it was clear that this was a masterful achievement. The black-and-white cinematography is so beautiful, too. This is simply an incredible film.
40. Phantom Thread - Paul Thomas Anderson (2017) There's so much I love about this film, but I must first start with the score. The music here from Jonny Greenwood is so lush and evocative. It is one of the most beautiful film scores I've ever heard, and I think it should have won the Oscar for Best Score last year. Then you have what may be the final performance by the greatest actor of his generation and, possibly, of all time. Daniel Day-Lewis is incredible here, but...dare I say it...I don't think he gives the best performance in the film. Relative newcomer Vicky Krieps absolutely shines as Alma, the muse and love interest of fashion designer Reynolds Woodcock (Day-Lewis). Lesley Manville also gives a fantastic performance as Reynolds' sister, Cyril, but it is Krieps that takes her character on an incredible journey in the film. She comes to dominate the story despite the commanding presence of Day-Lewis. This is a dark film, but it is also incredibly funny at times. It was my favorite film of 2017, and it continues to beguile me.
39. L.A. Confidential - Curtis Hanson (1997) This film has to be on the shortlist for the greatest screenplays ever written. Its plot is labyrinthine and populated my many intriguing characters, but it never careens out of control. That is because the script gives us just the right information exactly when we need it. Specifically, this film does an incredible job of always keeping the intentions of its characters in mind. When characters make a decision, we understand why they did that. At the same time, the plot still manages to throw us for some major loops at times. This is a hard-boiled detective story and a seedy tale of corruption all rolled into one. The acting performances are pristine, particularly from Kim Basinger as the femme fatale Lynn Bracken. She won an Oscar for her performance, and it was well-deserved. She subverts many of the tropes of the typical femme fatale role by showing vulnerability and compassion and ultimately being an active agent in helping our protagonists achieve their goals. This is a fantastic noir that should have won Best Picture at the 1998 Oscars (sorry, Titanic fans).

38. Glengarry Glen Ross - James Foley (1992) Language is a fascinating thing. As a communication major in college, I took a few classes where we considered the power of language, but few films have investigated the ways this power can be twisted quite like Glengarry Glen Ross. From the genius mind of writer David Mamet (who wrote the Pulitzer Prize-winning play upon which the film is based), we see how these real estate salesman have so cauterized their hearts that everything they say is meant to coerce or convince. Here, language is a weapon - and I'm not just referring to the many four-letter words that dot Mamet's dialogue. No, the very words these salesmen use are weapons in their warfare of commerce. They stage these battles from their dingy office, and they emerge as weary soldiers leaving us to wonder about the point of it all. The acting in this film is impeccable, especially by Al Pacino and Jack Lemmon. And the film contains some of the best movie monologues ever written. Mamet is an absolute genius with the pen.
37. La La Land - Damien Chazelle (2016) This film is right near the top on my list of favorite movie music. I listen to the music from this film often. In fact, it pops in my head randomly throughout the day. I absolutely love it! But it's more than just music. There is a powerful story here about the rightful place that dreams should take in our lives. The cinematography is incredible (though there is a film later on in my list that I think should have gotten the Oscar instead of this film), and the direction is fantastic. Couple that with an incredible performance by Emma Stone, and there's more than enough reason to overlook Ryan Gosling's less-than-stellar singing. Oh, and I could watch the Griffith Observatory scene on a loop for the rest of my life if I had to.

36: The Godfather Part II
36. The Godfather Part II - Francis Ford Coppola (1974) The argument will continue to rage among cinephiles on which of the first two installments of this classic trilogy is the best. You'll just have to wait and see if this one can be topped, but it is undeniable that this is an incredible film in its own right. I find it to be the most emotional of the Godfather films, with the continuation of the trilogy's focus on family reaching a deeply personal level. Obviously Al Pacino's performance as Michael Corleone is legendary, but so too is John Cazale as Fredo Corleone. Cazale tragically died at a young age, but he showed such promise for a long and acclaimed career. Every film he appeared in was nominated for Best Picture, and this one became the very first sequel to ever win the award.
35. Inside Llewyn Davis - Joel and Ethan Coen (2013) Talk about incredible movie music! Here, not only is the film populated by many classic folk songs from the era just before Bob Dylan, but the music used in the film was all recorded live on set. And lead actor Oscar Isaac did not have someone else provide the vocals for him. No, he acted and sang as lead character Llewyn Davis in the film. Aside from the incredible production that this film was, the story is also riveting. It shows that talent alone is not enough. The road to stardom is dotted with many talented folks who simply never made it. From a technical standpoint, the direction and writing from the Coens are obviously stellar. But I must also call out the cinematography from Bruno Delbonnel. This film looks much different than other Coen Brothers' films, but that is a testament to how Delbonnel brings his own artistic touch into the story. His work perfectly captures the dinginess of the film's settings and the longing inside Llewyn Davis.
34: Raiders of the Lost Ark
34. Indiana Jones and the Raiders of the Lost Ark - Steven Speilberg (1981) Here's the film that started it all. The unforgettable lead character. The hat. The whip. The indelible music by John Williams. One of the great movie trilogies began with this story of our hero chasing after the Ark of the Covenant. Again, I vividly remember watching this film as a kid. Back then, I appreciated the fun storyline and the memorable music. I still appreciate those things, but the film holds up so well because there is even more to appreciate as you continue to watch it. From the callback to Casablanca in the early scene at Marion's (Karen Allen) bar to Spielberg's wonderful direction of the film's set pieces, this is an absolutely classic film. I've decided that it is my favorite Indiana Jones film, which is high praise indeed.
33. The Big Lebowski - Joel and Ethan Coen (1998) Name me a better character than "The Dude" (Jeff Bridges). Go ahead, name one. You can't, right? The Dude abides. This is a perfect example of writing and acting coming together to form something more. Certainly, The Dude is a masterfully-written character. But that writing would not have come across so well without the one-of-a-kind performance by Bridges. This film is also a wonder because it really doesn't have a coherent plot. You try to go out and write a film about an unemployed stoner with no plot and have it become a cult classic. How did the Coens do it? Well - "Sometimes, there's a man, well, he's the man for his time and place. He fits right in there. And that's the Dude..." They did it with great characters and some of the most quotable dialogue ever written. Oh and it helps when your film spawns conspiracy theories that launch it into cult status. Nobody besides the Coens could have written this film. It's an incredible achievement. And all I can do is echo what The Stranger (Sam Elliott) says near the end of the film. "I don't know about you but I take comfort in that. It's good knowin' he's out there. The Dude. Takin' 'er easy for all us sinners."
32. Goodfellas - Martin Scorsese (1990) It's fast. It's visceral. It's fun. It's Marty with a gangster story, and he makes it one of the best that's ever been put to screen. The performances are timeless, especially Joe Pesci as the loose cannon, Tommy DeVito. The music is great (I automatically think of that famous close-up on De Niro as Cream's "Sunshine of Your Love" plays). Marty famously grew up in a section of New York where he saw gangsters up close. That personal touch is evident throughout this film, as we see why this lifestyle draws people in. Sure, there's the money. But it's really this sense of belonging and family. But then what happens when that is revealed to be the fake veneer that it is. The film's genius comes when we realize that we're the "schnooks" these guys laugh about. But is our life really so inferior to theirs when we aren't driving around looking to sky in paranoia about cops in helicopters? Setting aside the themes, this film is also an incredible technical achievement. Everyone mentions it when they talk about Goodfellas, but I have to praise the Steadicam shot when we follow Henry (Ray Liotta) and Karen Hill (Lorraine Bracco) down into the nightclub. It visually supports the thematic elements of the film - that every door is open to them.
31. Star Wars Episode IV: A New Hope - George Lucas (1977) It spawned the greatest cultural phenomenon of our time. From the films themselves to the toys, the costumes and now the theme parks, Star Wars is ubiquitous. Think about the massive achievement it is to create something that spawns so much love and fanatic affection. George Lucas is certainly a visionary, and his use of special effects in this film impacted filmmaking in ways that are still being felt. Would there even be a Marvel Cinematic Universe if not for the success of Star Wars? Even the notion a blockbuster was shaped by this and the release of Jaws just a few years earlier. The characters are incredible, and the storyline is classic. It took influences from Stanley Kubrick and Akira Kurosawa and made something entirely new and groundbreaking. And we're still talking about it today.
30. When Harry Met Sally - Rob Reiner (1989) It's the best rom-com. From the intercutting interviews with couples to the back-and-forth romance of its main characters, When Harry Met Sally is classic in every sense of the term. Billy Crystal and Meg Ryan are electric as one of the great on screen couples. And this film has some scenes that have been etched into movie history. Of course, there's the diner scene. But the New Year's Party scene is even better. There's many great quotes. It's just a great film. It's the kind of film that, when you watch it, you just know. Like you know about a good melon.
29. Whiplash - Damien Chazelle (2014) Rushing or dragging? Talk about an unforgettable performance! Once you've seen J.K. Simmons in this role, you will. not. forget. it. This has to be one of my favorite acting performances ever. Thankfully, he won the Academy Award for Best Supporting Actor for his work here. Rightfully so. He dominates the film as Fletcher, the music teacher to Andrew (Miles Teller). Here is a story about obsession and work ethic. If you've been given a great talent, how are you supposed to go about developing it? Is that better achieved through tender love, or through grueling repetition? I think this film has a lot to say there, and I think we're left to consider the ramifications. Along the way, we're treated to some of the best movie music there is. I think this film is best summed up by letting a quote from Fletcher take the stage. "There are no two words in the English language more harmful than 'good job.'"
28. Casablanca - Michael Curtiz (1942) You knew this film would show up high on my list, right? It's high on everyone's list. How can one film be so universally adored? Well, it's plainly incredible, that's how. The writing is superb (As a die-hard Cubs fan, I must note that two of the screenwriters - Julius J. Epstein and Philip G. Epstein - are the great-uncle and grandfather, respectively, of Chicago Cubs President of Baseball Operations, Theo Epstein). The direction and cinematography are legendary. The acting is classic, including both Humphrey Bogart and Ingrid Bergman - two of the biggest stars of Hollywood's Golden Age. This is a timeless story, and it includes some of the most famous lines of dialogue ever put on film. I'm sorry, but I can't help it. "Here's lookin' at you, kid."

27. Fargo - Joel and Ethan Coen (1996) This section of the list has been dominated by Martin Scorsese and the Coen Brothers, and for good reason. They're some of my favorite directors, and they've created some of the greatest films ever made. This 1996 crime caper certainly falls into that category. Everyone starts by talking about the Minnesotan dialect and accents, but that is such a key element of the film. The Coens are always masters of rooting their stories in a place, and this may just be the best example of that. We wonder how such horrible things can happen in such a nice place and to such nice people. But those things do happen, and every day. I feel like I keep saying this every time a Coen Brothers movie comes up on this list, but its true - they simply create incredible characters. Marge Gunderson (Frances McDormand) is one of the most memorable characters of recent movie history. Fargo has so captivated audiences that is has even now been turned into a major televison series. When your story has staying power like that, you know you've got something good. I also reviewed this film for Filmotomy's series on Joel and Ethan Coen.

26. The Parent Trap (1998)
26. The Parent Trap - Nancy Meyers (1998) This might just be the most nostalgic film for me. It's one of the first movies I ever remember seeing, and I watched it repeatedly growing up. Then, one afternoon, I was alone in my college apartment for a few hours and looking for a movie to watch. I came across this film that I adored as a kid and I figured I'd give it another chance. I was wowed by the fact that I loved it just as much if not more as an adult. Say what you will about Lindsay Lohan, but this film shows her incredible talent. At a young age, she played two different characters with two different accents. Not only that, but when the girls pull their switcheroo, she had to augment those accents slightly since she was now playing someone who was playing someone else. I also love the soundtrack to this film. It all works for me. This will forever be a favorite of mine. I also reviewed this film for InSession Film.
We're almost there! Let me know where I messed up by either leaving a comment below or tweeting at me. And make sure to check back next week for the Top 25. Thanks, friends!